Who is the 'i' in iWIN? Is it the 15 year-old Native youth who can't decide what career to choose? Is it the 18 year-old high school graduate in Ottawa who wants help in choosing a college program? Is it the unemployed farm worker in Southern Ontario who wants to change careers? Or, is it the woman in Belleville who is thinking about starting her own business?
The 'i' is all of these people and anyone else who needs information to make decisions about education, training, career planning and jobs. There's lots of information on these topics available all of the time. The problem is that information providers often focus on the information instead of the individual who is going to use it. And the individual gets lost.
One of the goals of creating iWIN is to focus on the individual: the 'i' in iWIN. The Internet can help people find the information they need. Agencies and government departments would like people to get information for decision-making. Now, there's a network that can bring these individuals and agencies together through the Internet.
The idea for iWIN came from a 15 year-old artist named Justin Towell of Goulais River, Ontario, who designed an icon of a stylized eye for this web site. His idea was that people could see information about their futures. The concept of an "eye" became the 'I' or individual, and this led to the focus on people rather than information. The "winners" are the people who make the right decisions for themselves.
Imagine a huge bulletin board. There are no sections, no guides, no subject divisions and no rules: this is what the World Wide Web is like. The Web contains millions of sites, on every subject. Many of these sites relate to employment and career planning. These sites are usually free to visit, quick to use, and often contain up-to-date information. But, how does the average person find sites in "cyberspace" that are useful? A search engine can help by listing sites, but these sites might not meet the needs of the visitor or user.
A work information network (WorkinfoNet) is an electronic network that makes this link between visitors and the information they need. Work information networks provide a central Web site, or address, where a person can find career planning and employment information for a certain geographical region. A work information network provides the first link to sites evaluated as being useful for many people in the area. The sites are organized so visitors can decide to view a site and link to it in one easy step. And, the network is a cooperative venture, with partners who work together to develop and maintain the site. In short, a WorkinfoNet organizes huge amounts of information into a framework that is useful to the visitor.
An Individual WorkinfoNet model (referred to as iWIN) is now available to Canadians seeking information about employment, labour market information (LMI), education and training, and career planning. This Internet directory model focuses on the individual. There are two main reasons for taking this approach.
First, there is so much information available in so many places that it is often overwhelming to begin a search. iWIN gives visitors control over the search process.
Second, visitors anywhere in the province have equal access, providing the technology and hardware for the Internet is available. This means that technology can help provide a more level playing field for residents of rural areas, First Nations' communities, small towns or large urban centres.
Individuals looking for employment information are not the only ones who can benefit from iWIN. Employees of social services departments, job centre workers, guidance counsellors, Band job developers and other helping professionals also need access to employment information to assist their clients in reaching their goals. These professionals play a dual role: they help visitors to the site find information, and they supply local information to the site for posting. This manual is designed to help these professional partners to complete, maintain, and improve the iWIN Web site.
Ontario WorkinfoNET maintains a national work information network that contains links to resources that are Canada-wide.
Ontario WorkinfoNet (OnWIN) is the provincial level of the work information network for Ontario. OnWIN provides Ontario residents with links to information about training, employment and career planning in Ontario. It is a partnership of government agencies, educators, and other organizations working together to create and sustain an Internet site that will provide a first stop for anyone seeking employment information or for anyone seeking to deliver that information for Ontario.
OnWIN was created in 1998, and it has since built a directory of over 1,800 links and sites. You can visit the OnWIN site on the Internet at http://www.onwin.ca
The Individual WorkinfoNet (referred to as iWIN) is the most specific level of a Workinfonet. iWIN focuses on the visitor's unique information needs. Electronic work information web sites have often lacked local information related to career planning and employment on the Internet.
So, iWIN is a system that brings together the people and agencies who have information on local employment, and the people who want to find information that is focused on their own communities. It also provides easy access to the other work information networks. The iWIN Hub site is the first of its kind. It is also founded on the partnership concept, in this case using partners in Ontario communities and Local Area Training Boards, to collect and organize information about employment and career planning.
Any area of information can be viewed in its most general, or broadest sense, or it can be broken down into more and more specific parts. The more specific a subject, the more likely it will be important to a subject "expert". The information in this case is labour market and career planning information and the subject expert is the individual visitor to the iWIN site. Similarly, Community Partners and Affiliate Partners are experts on their communities and the opportunities there. Each part of the WIN group is connected to the others and each part contributes to the structure of the whole (See Figure below). The visitor can enter the WorkinfoNet at the local level (iWIN) at the provincial level (OnWIN), or at the national level (Canada WorkinfoNET), and move freely among these levels, in either official language.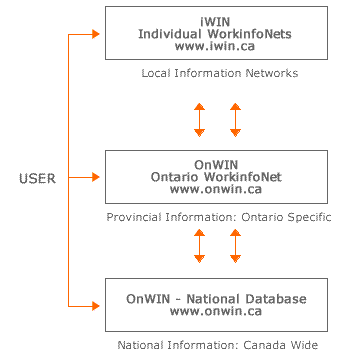 | | |
| --- | --- |
| WorkinfoNet | A national computerized network of Internet Web sites containing information about employment, education and training and career planning. |
| OnWIN | The WorkinfoNet serving all of Ontario |
| iWIN | One of 25 local WorkinfoNets in Ontario |
| Local Area Training Boards | The 25 Local Area Training Boards which advise the provincial and federal governments about labour adjustment and training needs in the province. |
| LMI | Labour Market Information |
| URL | Uniform Resource Locator. The individual "address" of each Internet web site |
| iWIN hub site | The web pages that direct the visitor to the appropriate iWIN web site in Ontario. |
| iWIN home page | A web site that represents a geographic area of Ontario featuring employment, career planning and education and training information. |
| ISP | Internet Service Provider |
| Community Partners | Various local employment, education and training, career planning and service providers. |